Do you own a website? Did you put a lot of effort tuning the design, adding meaningful content and providing great features? You might be facing a problem where your website does not receive enough hits and is not well referenced on search engines.
In this article we are going to describe, in an easy step-by-step guide, how to get free online traffic to your website using our free traffic exchange platform.
Create a free account
Creating your account only takes one minute and is free. Click on the following button to open the registration page.
You will be presented with the following form. You just need to provide a valid email, a username and a password.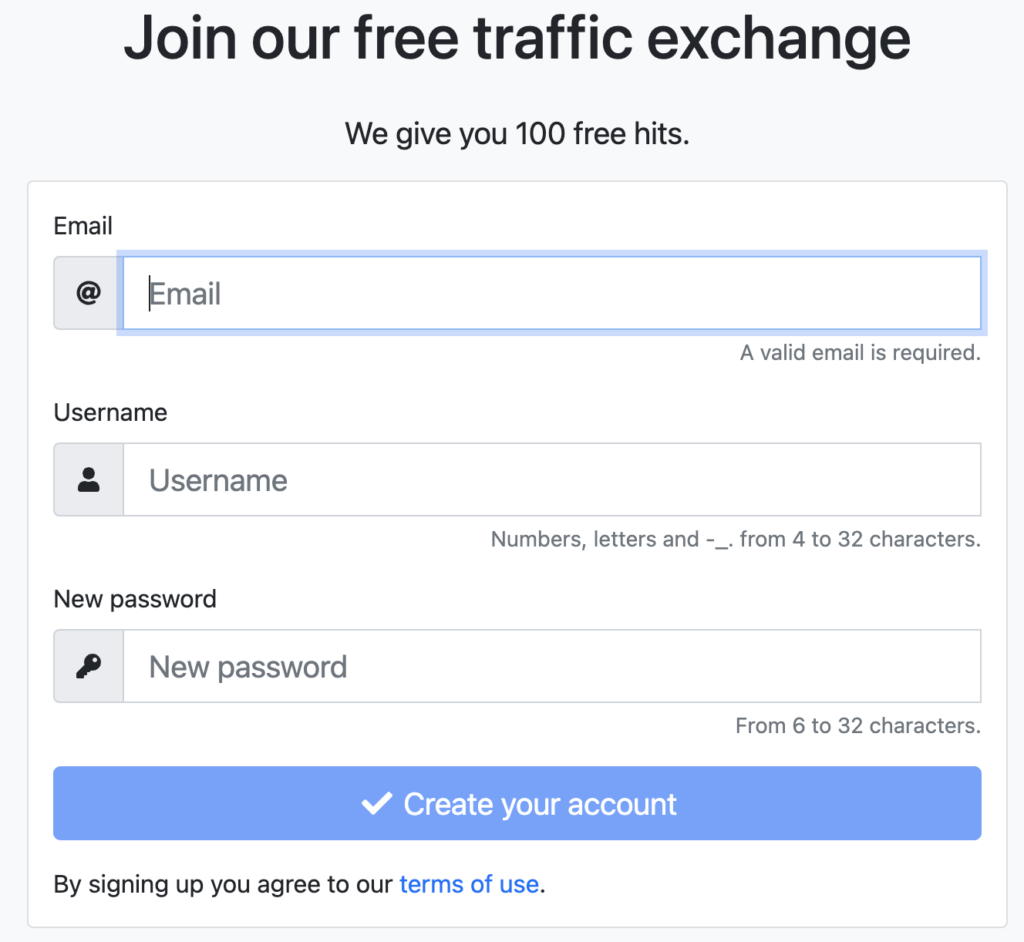 Once your account is created, you will be redirected to your dashboard. This is where you will be able to control all the traffic that we are going to send to your websites. But first, let's add your website.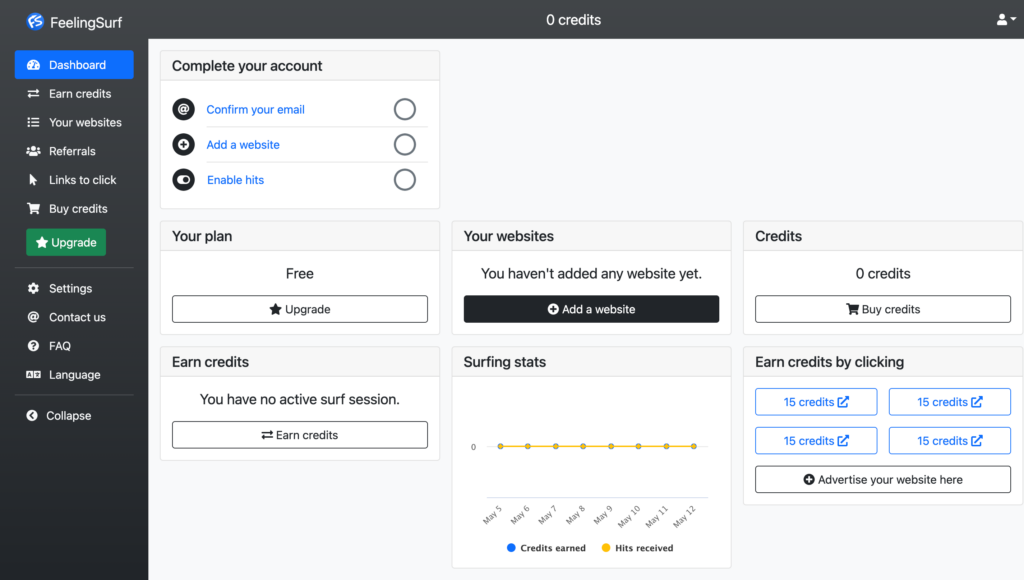 Add your website
In order to receive traffic, you should provide us with the address of your website. To do so, click on the "Add a website" button in your dashboard. You will be asked to enter the address of the site and a name that describes it.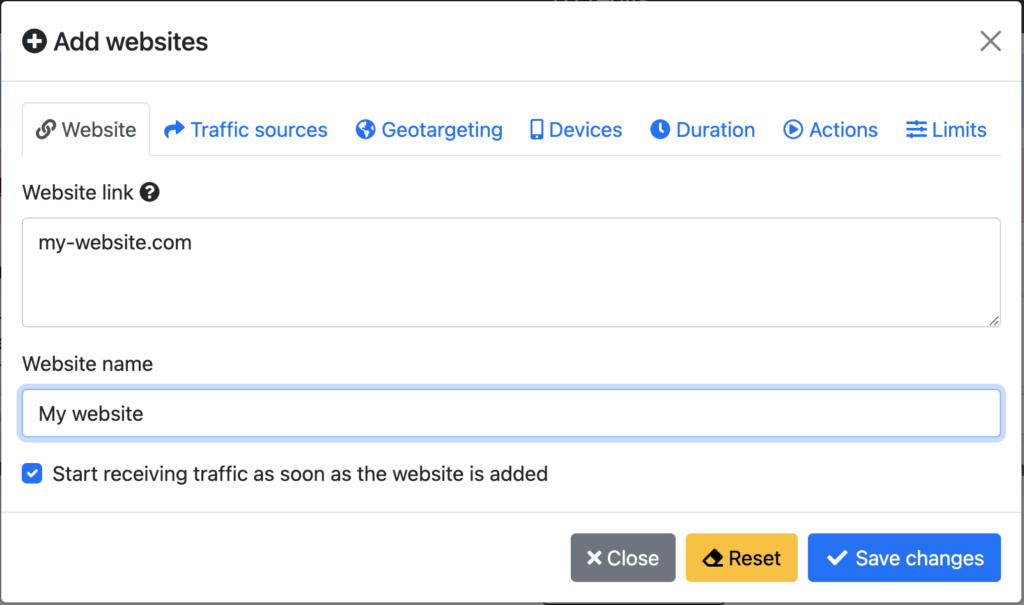 After clicking on "Save changes" you should see your website listed in the table as shown below.

Good job, your website is is now added into the system. Now let's see how to send visitors to it.
Enable hits and earn credits
FeelingSurf uses a simple credit system to exchange traffic among users. Each user has a credit balance. It costs one credits to receive a 10 seconds hit. In other terms, you will need credits to receive visitors.
There are multiple ways to get credits. You can either earn them for free or purchase credits. In this article we only cover how to earn free credits.
To start earning credits, click on the "Earn credits" link in the left menu. It will take you to the following page.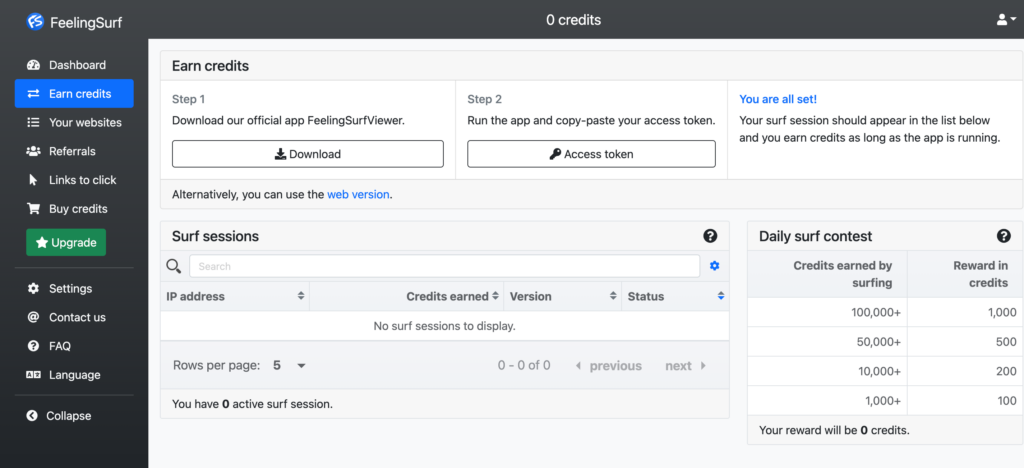 This page is the core of the traffic exchange system. It allows you to download our traffic exchange app called FeelingSurfViewer. To do so, click on the "Download" button.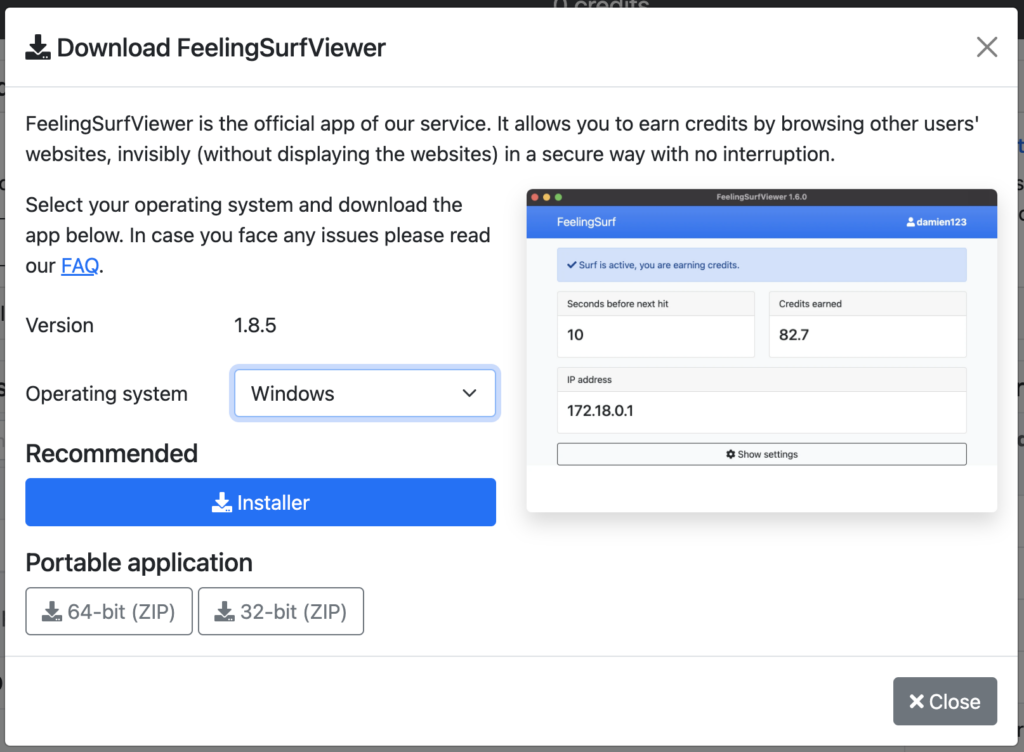 After making sure the pre-selected operating system is correct, you can can click on "Installer (exe)" to download our installer. Once the file is downloaded, open it. It will install our app and run. Once the app is running, you should see the following screen.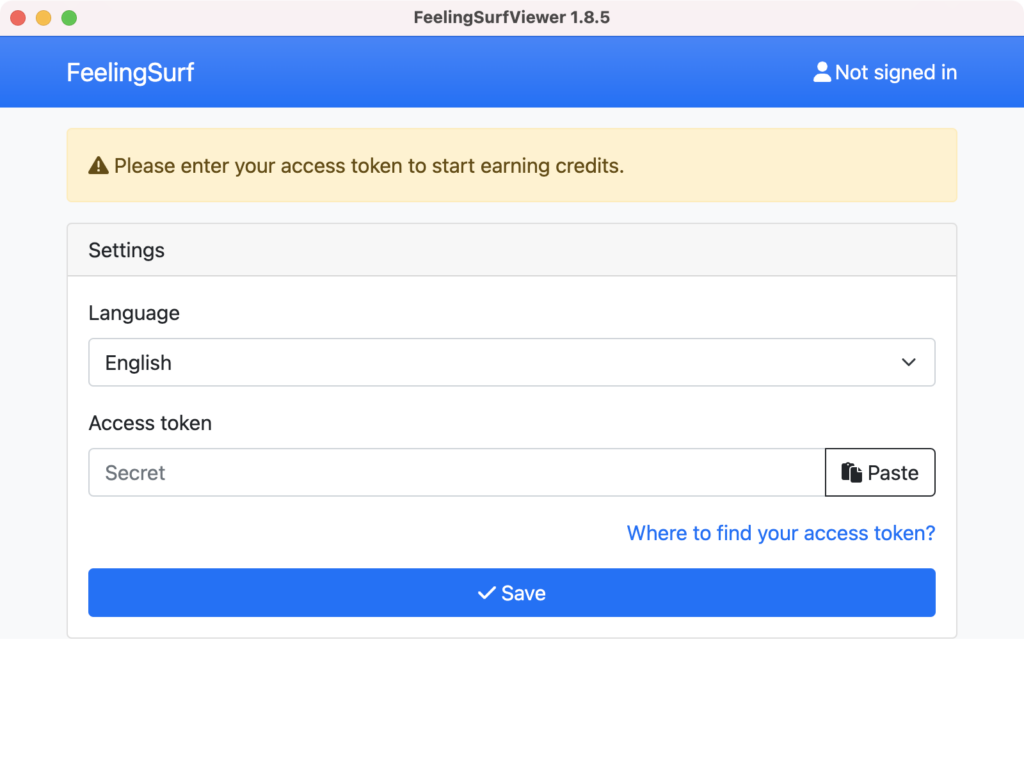 To connect the app with your account, we use a secret token that you will find on the same page where you downloaded the app. Click on the "Access token" button. You can now see and copy your access token. Make sure it remains secret and never share it with anybody.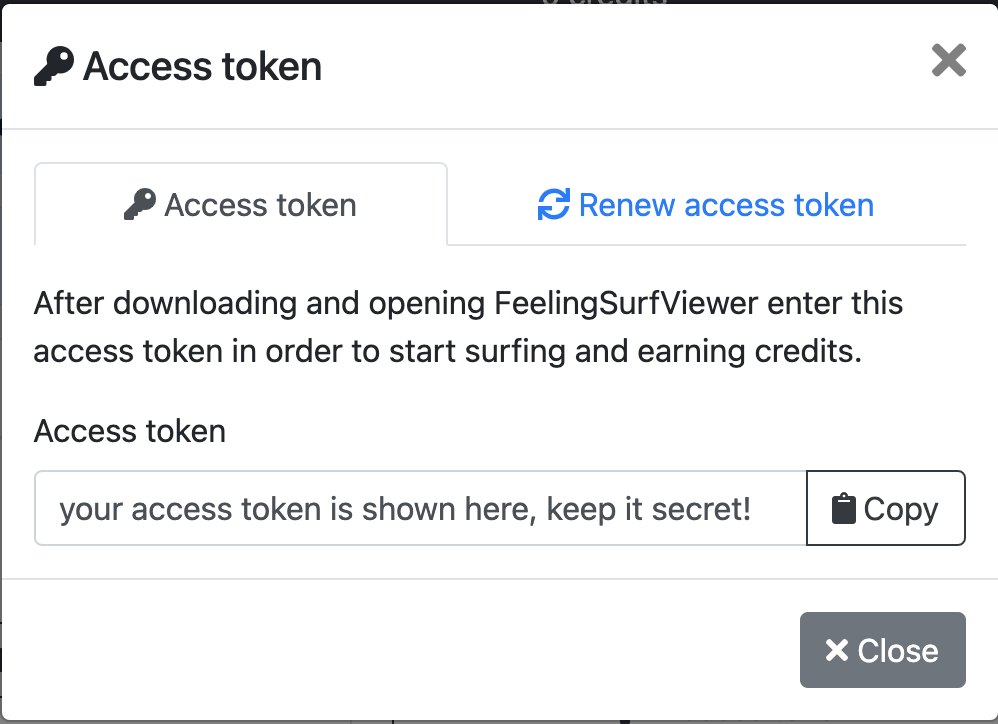 After you have clicked on the "Copy" button, go back to FeelingSurfViewer and paste the token into the "Access token" field. Finally, click on "Save". The app should now be running.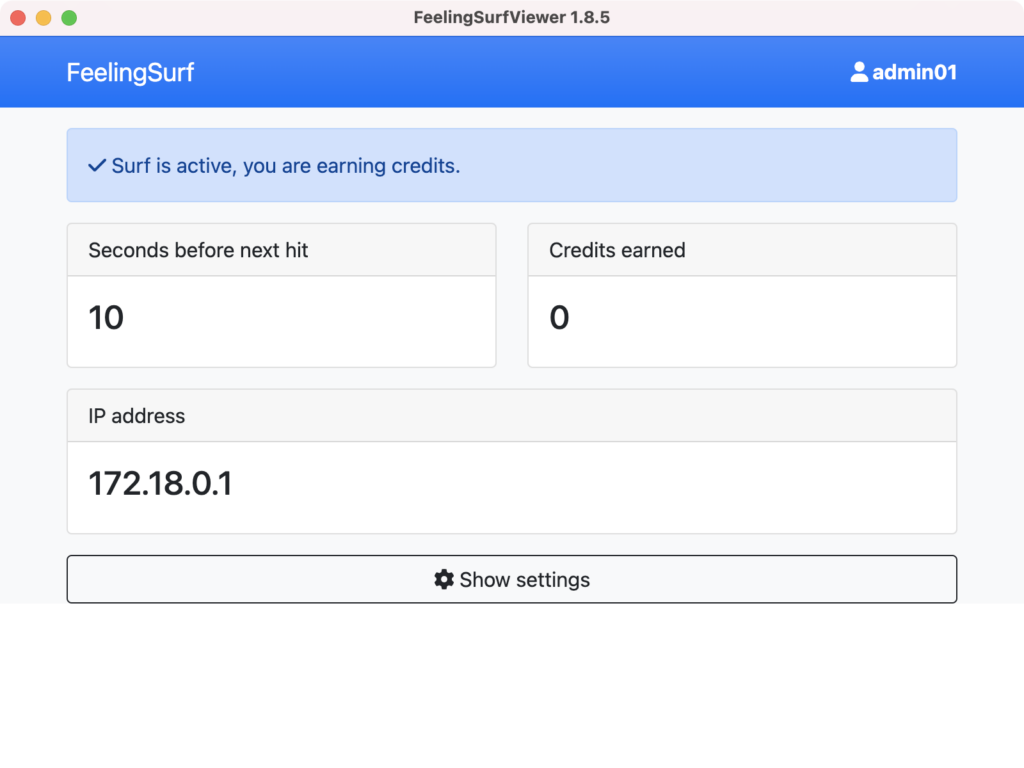 The setup is now done! As long as you leave the app running, you will earn credits. After you have earned your first 50 credits, FeelingSurf will automatically enable hits on your account and you will start to get hits onto your websites. You can see it by going to the "Your websites" page and look at the "Hits" column in the table listing all your websites.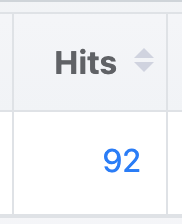 You can also click on the hits number to see a chart of how many hits were delivered each day of the previous seven days.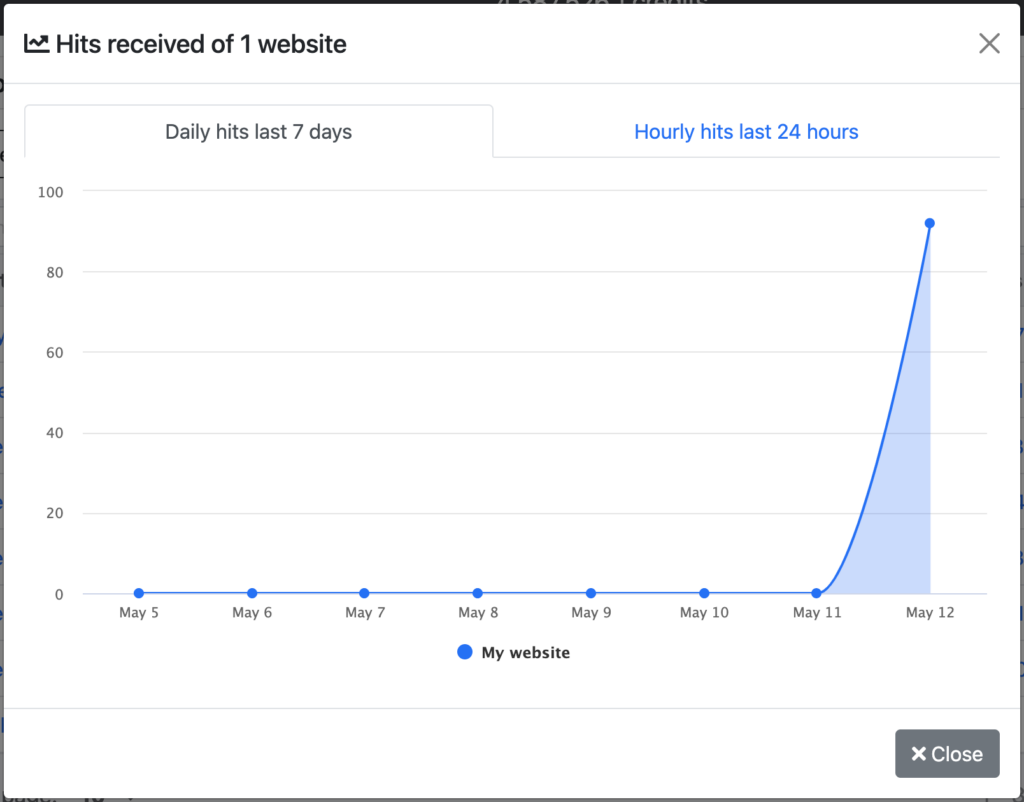 Congratulations you have successfully managed to get traffic to your website using FeelingSurf!