Hello, valued FeelingSurf users! We are thrilled to introduce a brand new feature that enhances your experience and puts you in control of your website traffic like never before. Say hello to "Traffic Quality Control."
What is Traffic Quality Control?
Traffic Quality Control is a powerful tool that allows you to fine-tune the quality of the traffic that visits your website. We understand that not all traffic is created equal, and sometimes you want to focus on the highest-quality visitors. With this feature, you can do just that.
How to Use Traffic Quality Control: A Step-by-Step Guide
Step 1: Log in to Your FeelingSurf Account
To get started, log in to your FeelingSurf Premium account. If you're not a Premium user yet, consider upgrading to take advantage of this feature and other exclusive benefits.
Step 2: Access the "Traffic Quality Control" Feature
Once logged in, navigate to your FeelingSurf websites. If you don't have a website registered yet, make sure to add one.
Select a website that you want to tune traffic quality control and click on the 3 vertical dots located on the right as shown below.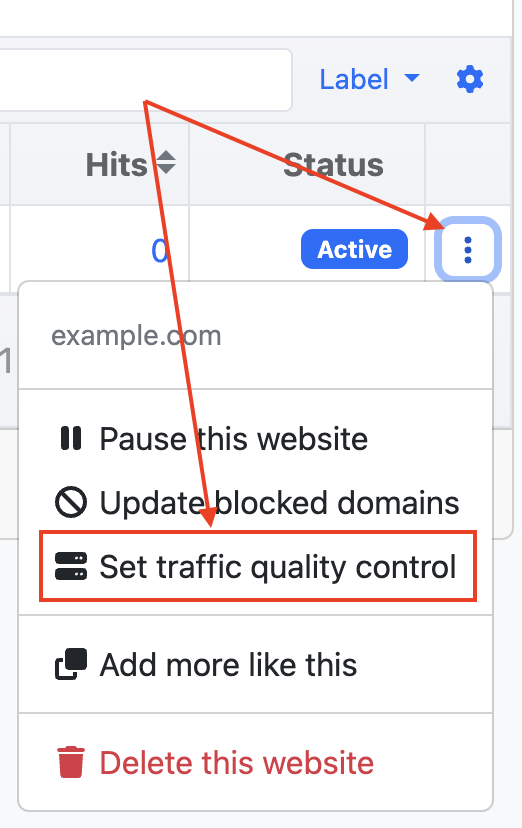 You will be presented with two options as shown below.

Step 3: Reduce Visits from Low-Quality IPs
You can turn on this option if you want to avoid your website receiving visits from low-quality IPs such as servers or VPS. Be aware that enabling this option will reduce the amount of visits your website will receive.
Step 4: Reduce Visits from IPv6
You can enable this option if your website is not compatible with IPv6. Make sure to check if your website is compatible with IPv6. Remember that turning on this option will reduce the number of visits on your website.
Step 5: Enjoy Enhanced Traffic Quality
With "Traffic Quality Control" you can enjoy an improved stream of traffic that aligns with your website's goals!
Step 6: Monitor and Adjust
Feel free to monitor the impact of these settings on your website's traffic. If you ever want to make adjustments, simply return to the "Traffic Quality Control" settings and fine-tune your preferences.
Conclusion
FeelingSurf Premium's "Traffic Quality Control" feature empowers you to tailor your website's traffic to your unique needs. It's about ensuring that your website visitors are not just numerous but also high-quality.
Are you ready to harness the power of Traffic Quality Control? Upgrade to FeelingSurf Premium today and unlock this feature and more. Your website deserves the best, and FeelingSurf is here to help you achieve it.
Thank you for being a part of the FeelingSurf community. We look forward to your continued success online.
Feel free to reach out if you have any questions or need assistance. Happy surfing!