As a traffic exchange platform, FeelingSurf allows you to add multiple websites where you want to send traffic to. Before website templates existed, every time you wanted to add a new website you would have to configure every options such as the following:
traffic source – Define from where traffic is seen coming from,
countries (geo-targeting) – Limit or exclude countries from where traffic is coming from,
devices – Get visitors from desktop computers, tablets or mobile devices,
visit duration – Choose for how long visitors remain on your website,
actions – Allows you to have visitors clicking links, scrolling or refreshing your web page,
traffic limits – Let you adjust how many visits you want to receive in an hour, a day or in total.
In order to save you time when adding new websites, we have recently introduced a new feature called website templates. Website templates allows you to build reusable templates including all the options a website can have and use them when adding new websites onto our platform.
How it works
Website templates can be managed from your websites in your FeelingSurf account. Click on "Manage" > "Your website templates" as shown below.

You will be presented a list of your website templates which will be empty by default. Click on "Add a website template" button to add a new template.

Configuring a website template is very similar to adding a new website, you simply pick a template name and configure the available options as desired.

Once your new template is added, you can see it in the website templates list.

The goal of website templates is to allow you to add new websites using them. Let's do it by going by to Your websites and click on "Add websites".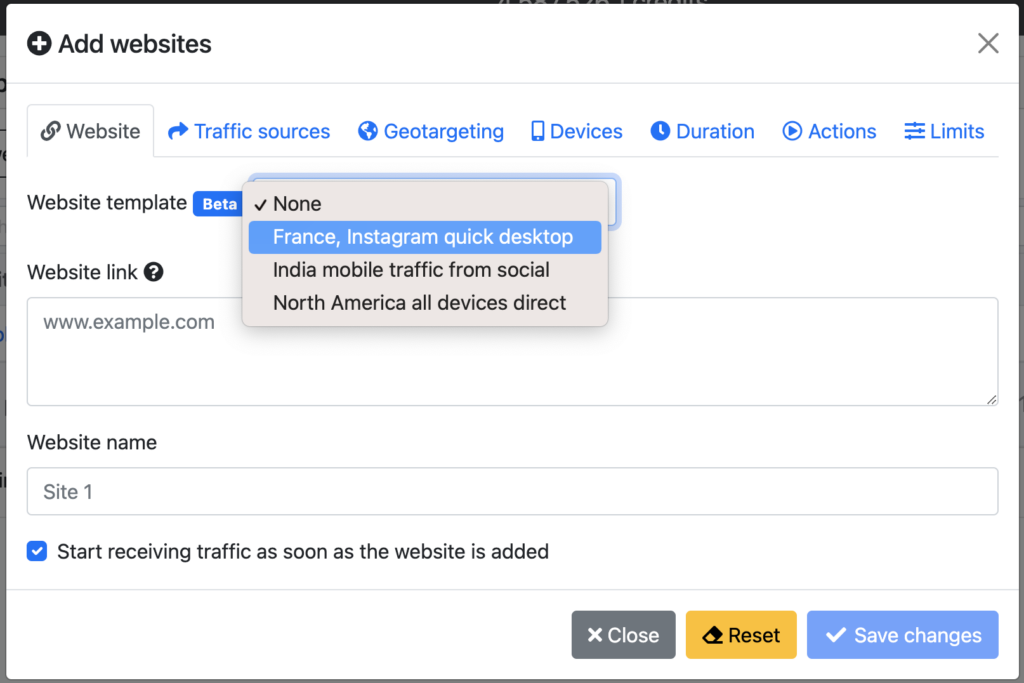 When adding a new website, you simply select which template you want to use. This will pre-select all the options to match the ones set in the template. Then you simply need to click "Save changes". Your website is added, congratulations!
Closing thoughts
We have seen how website templates can be used to quickly add new websites. The best thing about website templates is: they are available for free to all FeelingSurf users! You may have up to 100 templates on your account.
Don't have a FeelingSurf account yet? Join our free traffic exchange platform and receive 100 hits as a welcome gift.